Turn your sales team into social selling stars, increasing sales and powering your brand
Bridge the gap between marketing and sales through SoAmpli, the best employee advocacy platform for social selling.
We help you efficiently share social media content with your team, managing and controlling the process throughout.
Start 14-day free trial
Request a demo
---
SoAmpli's benefits, at a glance.
For marketing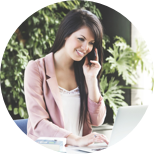 Save time on content distribution
Increase and showcase social content's ROI
Educate your sales team on social media and social selling best practices
Boost brand awareness cost-effectively
For sales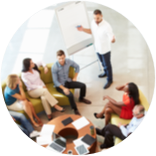 Generate leads on social media to fill your pipeline
Power your personal brand by showcasing your unique expertise and thought-leadership
Expand your online professional network to include prospects, industry experts and existing clients
Reevoo is a UGC platform – we provide solutions to hundreds of brands around the world, specialising in the collection and display of customer experiences, reviews and peer-to-peer conversations. As a B2B company, we need to distribute fresh and relevant content to our sales team to share on social media. SoAmpli proved invaluable in supporting our social selling programme and help our team with lead generation and nurturing on Twitter and Linkedin. One thing that sets SoAmpli apart is their amazing customer support. They have taken on board all of our feedback, and have collaborated with us to ensure our success in the most effective way.
We chose SoAmpli as our social advocacy platform for one key reason, its simplicity. We were looking for an easy and effective tool to engage and inform our wide base of advocates across the country in areas as diverse as fundraising, retail and head office staff as well as mobilise them around our social campaigns. SoAmpli proved perfect for that. The SoAmpli team have been great at listening to our specific needs, really taking on board our suggestions and supporting us every step of the way. It's hard to find a SaaS company as involved in their clients' success as SoAmpli.
At Comparis, we have been using SoAmpli employee advocacy platform for over two years now. The platform itself could not be more intuitive, and using it to share and schedule social media posts has become an integral part of our company's work routine. From initial set-up and on-boarding, to on-going training and support, SoAmpli's success managers have helped us every step of the way.
The ongoing support and advice we have received from SoAmpli during our employee advocacy journey has been amazing. The platform has created a new way for us to share and track content that is simple and effective, no matter how experienced or confident you are on social media. The results we have seen so far have been so positive that we have decided to bring more regional teams of our charity on board. I would definitely recommend SoAmpli to any organisation looking to step up their corporate social media game.
IDEALondon is a community of startups in TechCity that's championed and supported by UCL, DC Thomson and Cisco. Through SoAmpli we can easily promote our startups' news, and they can do the same for each other. SoAmpli has proved to be a perfect tool for IDEALondon to strengthen our community's online presence, vastly increasing the scope and reach of content we can easily publish, and increase bonds in the community by keeping everyone better informed.
Our employees are the heart and voice of Foresight Factory. SoAmpli provides a way for them to broadcast news and events about the Foresight Factory brand in their own, unique voice. And personally, the platform has helped me become an active Twitter user.
At UCL Advances we were looking for an effective and simple way to keep everyone informed about our numerous initiatives. Through SoAmpli, we have found an easy way to maximise engagement, leveraging on the incredible networks of our staff, students and academics. Thanks to SoAmpli's implementation plan and attentive team of Success Managers, we also boosted digital confidence across staff, increasing their frequency of sharing UCL Advances' news on social media by 50%.
Previous
Next
We are the marketing and sales advocate specialists.