Turn your sales team into social selling stars, increasing sales and powering your brand
Bridge the gap between marketing and sales through SoAmpli, the best employee advocacy platform for social selling.
We help you efficiently share social media content with your team, managing and controlling the process throughout.
Start 14-day free trial
Request a demo
---
SoAmpli's benefits, at a glance.
For marketing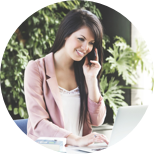 Save time on content distribution
Increase and showcase social content's ROI
Educate your sales team on social media and social selling best practices
Boost brand awareness cost-effectively
For sales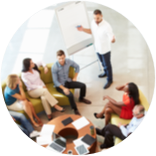 Generate leads on social media to fill your pipeline
Power your personal brand by showcasing your unique expertise and thought-leadership
Expand your online professional network to include prospects, industry experts and existing clients
SoAmpli is an intuitive tool that made social sharing easier for everyone at Comparis, whatever their confidence or experience with social media. It provides a quick and efficient way to boost the reach of the numerous pieces of valuable content we create.
IDEALondon is a community of startups in TechCity that's championed and supported by UCL, DC Thomson and Cisco. Through SoAmpli we can easily promote our startups' news, and they can do the same for each other. SoAmpli has proved to be a perfect tool for IDEALondon to strengthen our community's online presence, vastly increasing the scope and reach of content we can easily publish, and increase bonds in the community by keeping everyone better informed.
Our employees are the heart and voice of Future Foundation. SoAmpli provides a way for them to broadcast news and events about the Future Foundation brand in their own, unique voice. And personally, the platform has helped me become an active Twitter user.
At UCL Advances we were looking for an effective and simple way to keep everyone informed about our numerous initiatives. Through SoAmpli, we have found an easy way to maximise engagement, leveraging on the incredible networks of our staff, students and academics. Thanks to SoAmpli's implementation plan and attentive team of Success Managers, we also boosted digital confidence across staff, increasing their frequency of sharing UCL Advances' news on social media by 50%.
Previous
Next
We are the marketing and sales advocate specialists.